We've always admired and been fascinated by what is technically called salt-glazed stoneware. After all, who'd have thought that throwing common salt into the kiln during the firing process of pottery would produce the results it did.
Was it discovered by accident? Perhaps so, if you believe the theory that when Dutch potters used the wood from old barrels discarded by herring fishers to fire their kilns, their unglazed pots emerged covered by a glass-like shine.
The history books, meanwhile, recount that it was 15th century Rhineland potters who found that the technique produced an orange peel-like translucent coating on anything the salt touches.
According to the science books, at the correct, extremely high, temperature, the salt reacts with the silica in the clay pots to produce sodium silicate. This combination of heat and chemical process causes the salt to vaporise and bond with the pots to give an extremely strong finish that is impervious to fluids, even acid.
That's as maybe, but the unpredictability of the process meant that often, no two pots in emerged the same, which is
much appreciated by collectors.
The technique spread to the UK in the 17th century, notably at John Dwight's Fulham pottery and in the 1840s, John Doulton made his fortune perfecting the more uniform production of salt-glazed sewer pipes and other utilitarian wares at his factory in Lambeth.
Doulton used the process to produce decorative wares for a brief period, designed and produced notably by the famous George Tinworth (1843-1913) and sisters Hannah (1851-1916) and Florence Barlow (1855-1909) after which it largely died out, in part because of the introduction of clean air regulations.
An exception was the experimental work done on a far smaller scale by studio potters such as Bernard Leach (1887-1979) but less familiar to UK collectors is German salt-glazed studio pottery being pioneered by East Yorkshire based dealer John Newton.
Until two years ago, John specialised in traditional English and European porcelain but he has moved into the 20th century in response to the demands of today's younger collectors.
Now he concentrates particularly on a type of salt-glazed studio pottery with its distinctive colours of grey and cobalt blue that takes its name from the Höhr-Grenzhausen and Ransbach-Baumbach area known as Westerwald, about half-way between Frankfurt and Cologne, in Rheinland-Pfalz. He has built a significant following of buyers.
"Westerwald pottery has never really been promoted on any scale in the UK," John told me, "but my pieces are all by known and recorded studio potters, which makes it easily identifiable for people to collect.
The Rhineland area of Germany provided the most essential ingredient to the development of the ceramic industry: the purest, richest, and largest clay quarries in Europe, while massive forests and basalt mines made the area an ideal place for pottery production.
In the late 16th century, many potters emigrated to Westerwald from throughout Europe bringing new concepts in both art and craft. Using techniques handed down from the Middle Ages, the salt-glazing gives the high quality grey coloured clay its distinctive background colour, while cobalt blue is one of the few coloured glazes that does not burn off in the extremely high temperatures required for the process to work.
The First World War took a heavy toll on the number of potters operating in Westerwald, but a number of small workshops survived and developed into major manufacturers who exported their wares throughout Europe.
Elfriede Balzar-Kopp (1904-1983) and Wim Mühlendyk (1905-1986) meanwhile were founders of potter families whose main aim was to revive the traditional methods of production.
Elfriede, known as the "grandmother of German Modernist ceramics", was born in Luxembourg and studied at both the state engineering and ceramic college in Höhr-Grenzhausen and at the state majolica factory in Karlsruhe, where she later worked.
She opened her own studio in 1927 and was active as a potter until 1973. Associated with the move away from German Expressionism, which had abandoned tradition, she instead supported a philosophy of new objectivity, whose art the Nazis later condemned as degenerate.
Her collaborator, Mühlendyck was born in Porz, near Cologne. He attended the State Ceramic Technical College in Höhr-Grenzhausen in 1926–27 and founded a workshop there in 1931.
Regarded as an innovator among his peers, in addition to drinking vessels, he also produced floor and wall tiles and, somewhat unusually, ceramic tombstones, some of which were used in military cemeteries.
Between them, the two built new furnace-kilns and experimented with firing temperatures and production methods while retaining the traditional old techniques.
Their work found many followers and won medals in the World Exhibition in Paris in 1937.
Klothide Giefer-Bahn (1924-2008) was apprenticed to Elfriede Balzar-Kopp. She was born in Koblenz and completed her Masters training as a ceramicist in 1947, the same year that she opened her own studio.
She exhibited widely and won many awards, while her work in in museums and private collections around the world. Her son Roland continues the pottery today.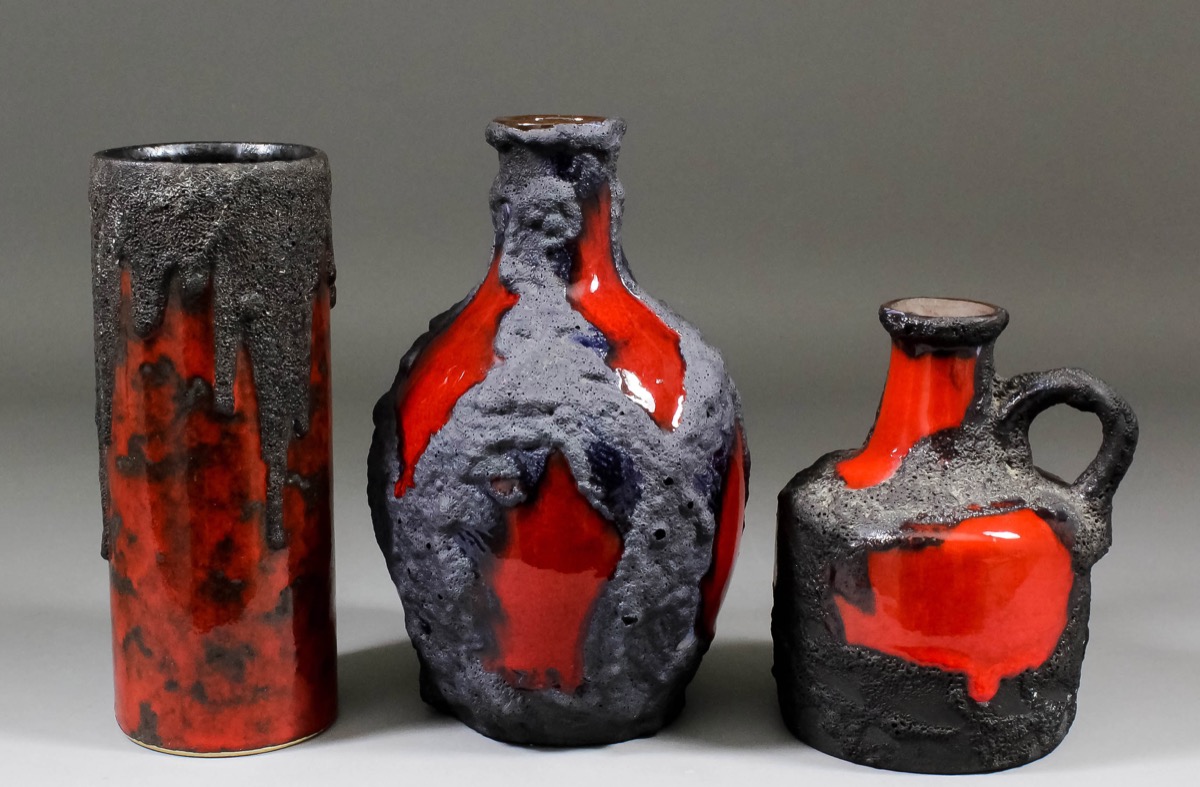 Arguably the best known German art pottery is the so-called "Fat Lava", which takes its name from the thick, black, encrusted glazes used to decorate usually fiery red vases, much like the frozen lava spewing from an active volcano.
The ware was first seen in the UK in any numbers 10 years ago at the first retrospective exhibition of German ceramics of the Sixties and Seventies, held at King's Lynn Arts Centre in Norfolk. Collectors went wild and prices shot up from charity shop bargains to Antiques Roadshow stars worth hundreds.
Now demand has cooled, to the point where this trio of pieces sold in a recent auction for £30. Photo: The Canterbury Auction Galleries